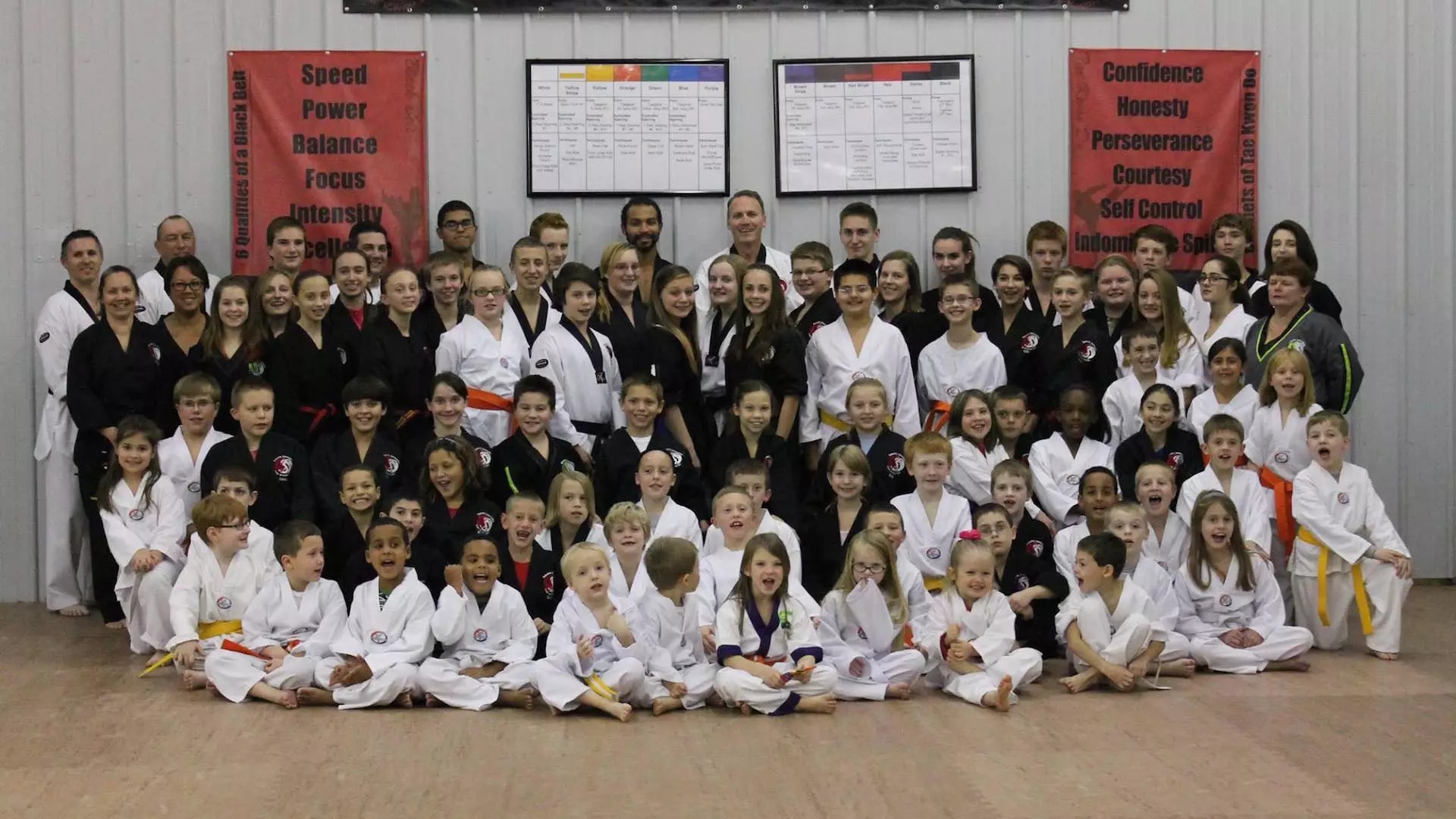 Dover Dragons Tae Kwon Do Reviews
Dover Dragons Tae Kwon Do has been the absolute best thing for our son, who started as a Little Dragon & is now a First Degree Black Belt. It has helped to build his self-confidence & self-esteem! Master Bob & his staff are dedicated to helping their Martial arts students through positive encouragement, setting high (but obtainable) goals, & creating a healthy, respectful environment where their students can achieve success! "This is a black belt school" that truly impacts those attending in many ways! There is a level of respect, from all parties, that is so obvious when attending this martial arts school. Having our son join Dover Dragons was one of the best decisions we made, & now seeing his desire to continue is so rewarding!
Dover Dragons has been a big part of our son Braeden's life for over 4 years now. Going there has taught him respect, discipline, focus, confidence and so much more. He is hoping to become an instructor. Thanks to all the instructors there and especially Master Jake, Ms.Tracy, and most of all Master Bob.
My son has been at Dover Dragons since he was 4, he is about to turn 7. He started as a Little Dragon and is now a yellow belt in the beginner kids class. The purpose of enrolling him in Taekwondo is because he is an only child and needs to learn how to defend himself. His starting at such a young age was concerning because I wasn't sure how attentive he would be, as he also has ADHD. From the beginning, we were welcomed with open arms and all of the instructors have been AMAZING with my son and his needs. He has progressed so much since he started and he loves going to class. I look at this as an investment in my son's future. The skills he is learning will last him a lifetime. I highly recommend Dover Dragons. I plan to keep my son enrolled into the unforeseeable future. Best money ever spent!
Our boys are both black belts with Dover Dragons TKD. My younger son, Parker is a 1st-degree black belt and felt a great sense of pride and accomplishment as he met that amazing goal over the course of several years. Our older son, Caiden is a 2nd-degree black belt and currently helps with teaching classes at Dover Dragons as a SWAT team member. As a parent, we love seeing the fundamental, character-building traits that also come along with earning a black belt - commitment, teamwork, perseverance, focus, dedication, work ethic, respect, training, and so much more! We love being part of the Dover Dragons family!
Our son just started a few weeks ago and LOVES his class! Master Bob and Master Jake have been amazing in helping him to enjoy attending class online (during quarantine), which has already helped him gain confidence and control. We can't wait until he can join classes in person!
My child has been here for years. Great fun and learning experience. Love the teachers as well. My daughter loves to be a part of the fun and on her way to becoming a black belt!
Teachers are really good at motivating the students, they encourage them to keep trying and to do their best. It is a great environment, respectful and fun. We just love it here!
It is amazing! You will not regret it best Taekwondo school in PA
Our family has been part of the Dover Dragons School of Tae Kwon Do for the last 8 years or so. Our daughter has grown up there, and our five-year-old is just getting started. Our daughter has developed confidence, discipline, kindness, respect, helpfulness, and feels good and healthy in her body. She will be 16 in October, and we couldn't be more proud of the kind of person she is becoming. We credit Dover Dragons with helping her to develop her character, learn a strong work ethic, and deeply understand the importance of teamwork and accountability. She is now a second-degree black belt and has no plans of stopping Tae Kwon Do anytime soon. We recommend Dover Dragons very highly and are so grateful to be a part of the community they have created. --------- I mean every word. You guys are freaking awesome.
My son started Dover Dragons a little over a year ago, and we absolutely LOVE it here! We have watched his confidence grow on a weekly basis. It has also helped with discipline and control of his emotions. Very knowledgeable staff who really want to see the kids grow. Always comfortable and fun to watch! We also had my son's birthday party which was a huge hit, and very reasonably priced! Highly recommend!
The staff is amazing. They all take the time to help each kid and they get to know each kid as well.
My daughter had tons of fun and learned a lot. They were so friendly.
The best after-school activity ever. They teach discipline but also know how to relate to younger kids. Can't get a better group of leaders for the Dover area.
The best Black Belt School around! Great for all ages and the kids advance fast!
Dover Dragons and the Kistner family is the best way to go! My son and I have been students for over 3 years now. It's been a blessing to see our son grow and learn in his confidence, strength and overall mindset. He has made a great group of friends within the Dover Dragon family. We thank the Kistner family for everything. They exemplify true leadership and always always go above and beyond to create a positive growing environment. They love you where you're at and encourage you to grow beyond what you believe you can do! When asked what he would say in one sentence to describe Dover Dragons my 10-year-old son simply said, "AWESOME!" Still not sure yet? Come in and check it out! It will be well worth your time! Be sure to come say hello though. I'd love to share with you my personal experiences as a parent and student. See you on the mat friends!
Dover Dragons Tae Kwon Do
See and hear our students in action and find out more about what we do!
Dover Dragons Tae Kwon Do
Get Started Today
Are you ready for your first class with Dover Dragons? Don't wait – reach out to us over phone or email, or through the "Get More Information" button. We can't wait to meet you!